The horses belong to the family
Here you will find a selection of riding activities that you can enjoy during your stay on Can Paulino or as an external visitor – children from 3 years old.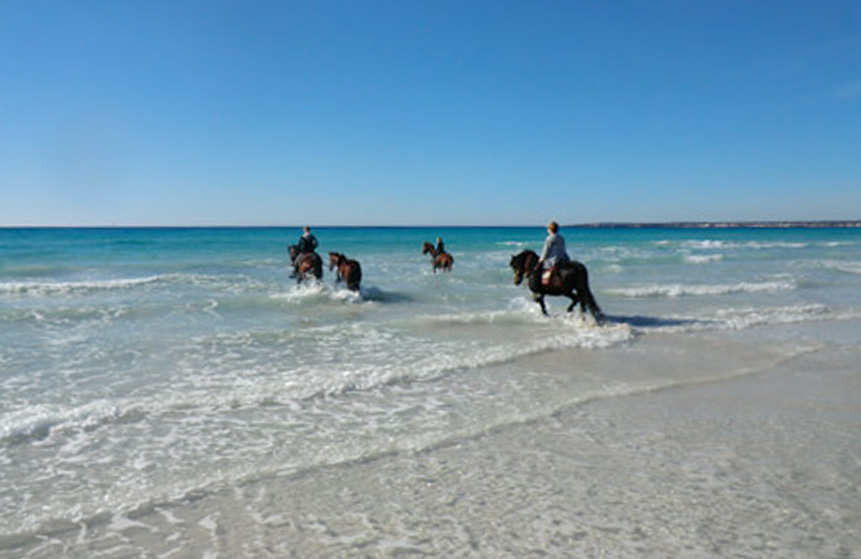 Beach rides
The beach rides take place on the beautiful natural Es Trenc beach, during the months of November to the end of March. In the main season, from April to the end of October, we offer these rides as a full moon ride.
Full moon calendar
Tuesday, 02.01.2018
Wednesday, 31.01.2018
Friday, 02.03.2018
Saturday, 31.03.2018
Monday, 30.04.2018
Tuesday, 29.05.2018
Thursday, 28.06.2018
Friday, 27.07.2018
Sunday, 26.08.2018
Tuesday, 25.09.2018
Wednesday, 24.10.2018
Friday, 23.11.2018
Saturday, 22.12.2018
Beach ride 3 hours:
€ 180 (1 person)
€ 150 (from 2 persons)
Saline rides
At the Saline rides, which take place all year-round, with some luck we can observe the domestic Flamingos. From mid-April to mid-October we invite you to a drink in the Salinenbar during the horseback rides. You have the opportunity to purchase the famous Flor de Sal or other Majorcan specialties for your home.
Saline ride 2 hours:
€ 130 (1 person)
€ 100 (from 2 persons)
Saline ride 3 hours:
€ 180 (1 person)
€ 150 (from 2 persons)
Saline / Beach ride 5 hours:
€ 240 (1 person)
€ 190 (from 2 persons)
Rides into the countryside
For our house guests
Our trail rides to the countryside are of a cozy nature and you have the possibility to explore the magnificent Majorcan area in peace from the back of the horses. Passing almond plantations through vineyards or walk through the pine forest. The surrounding countryside offers a variety of landscapes.
Country ride 1 hour:
€ 70 (1 person)
€ 60 (from 2 Persons)
Country ride 3 hours:
€ 150 (1 person)
€ 120 (from 2 persons)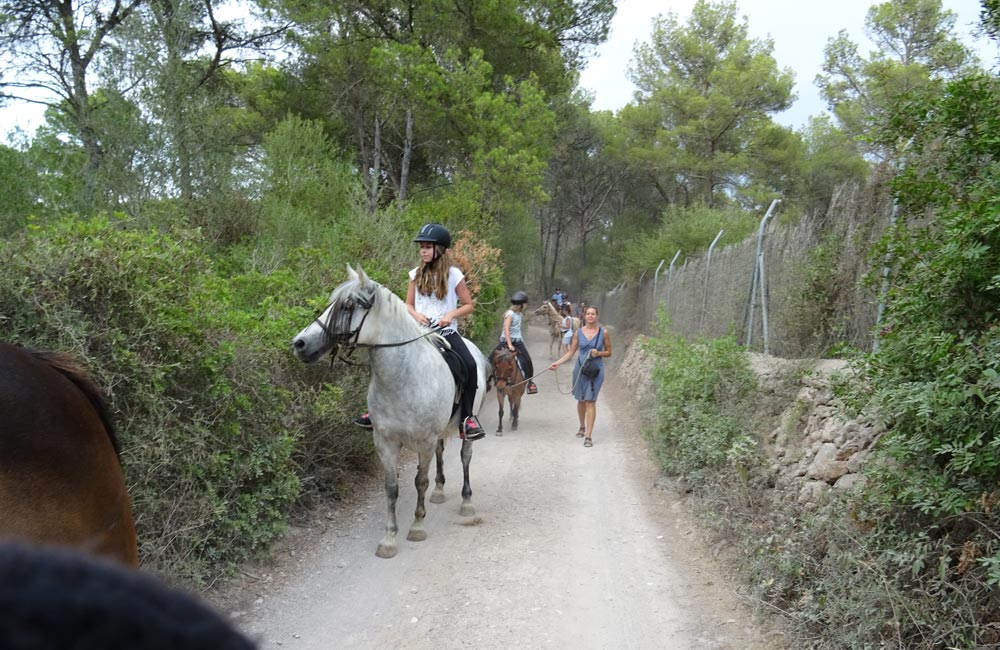 Guided rides
These rides are designed not only for children, but also for adults who would like to enjoy the Mallorcan landscape from the back of the horses. The horses are guided from the ground.
A picnic can be booked for € 15 / person.
Countryside 1,5 hours:
€ 80 (1 person)
€ 60 (from 2 persons)
Saline 2,5 hours:
€ 100 (from 2 persons)